Barcelona defeated Sevilla. Incredible and powerful victory
Barcelona defeated Sevilla on Friday night at the Montjuic Olympic Stadium, Barcelona maintained its perfect start to the season and will hold the top spot in the La Liga standings for at least one night. Barça played excellently throughout the entire game and produced a number of excellent chances, but they struggled to convert them, so they needed an own goal from Sergio Ramos to secure all three points and a critical victory at home.
FIRST HALF
Two strong teams that accepted each other's strengths and were highly competitive didn't give each other an inch during the first half of play, which was played at a very high level. The game had a terrific flow as the two sides exchange blows for 45 minutes, and the referee did a decent job of allowing some aggressiveness without calling unneeded violation.
Barça had more control over the ball than usual, and after an uncertain start with a few inaccurate passes and touches, they managed to settle in and find their rhythm, opening up scoring opportunities with outstanding movement and varied passing. The finest opportunity came when Joo Cancelo made a wonderful move through three defenders and laid the ball off to Joo Félix, but the Portuguese forward had terrible luck when his shot struck the crossbar and went wide.
Jules Kounde narrowly missed scoring against his former team with a header off an Ilkay Gündogan corner, and substitute Fermin Lopez, who came on for Raphinha after the Brazilian left with a hamstring injury, also missed a significant opportunity to score twice in four days after receiving a beautiful pass from Lamine Yamal inside the penalty area but failing to generate enough force with his shot.
The visitors showed they were very much alive and ready to strike if given the opportunity despite the fact that Barça had the majority of the chances. Ivan Rakitic and Dodi Lukébakio both forced Marc-André ter Stegen to make a few good saves to prevent the away team from scoring.
The first half had been entertaining and competitive, with plenty of action but no goals. The second half was predicted to be much more entertaining. Could Sevilla hold on long enough to pull off the surprise or would Barça maintain their strong play and score the winning goals?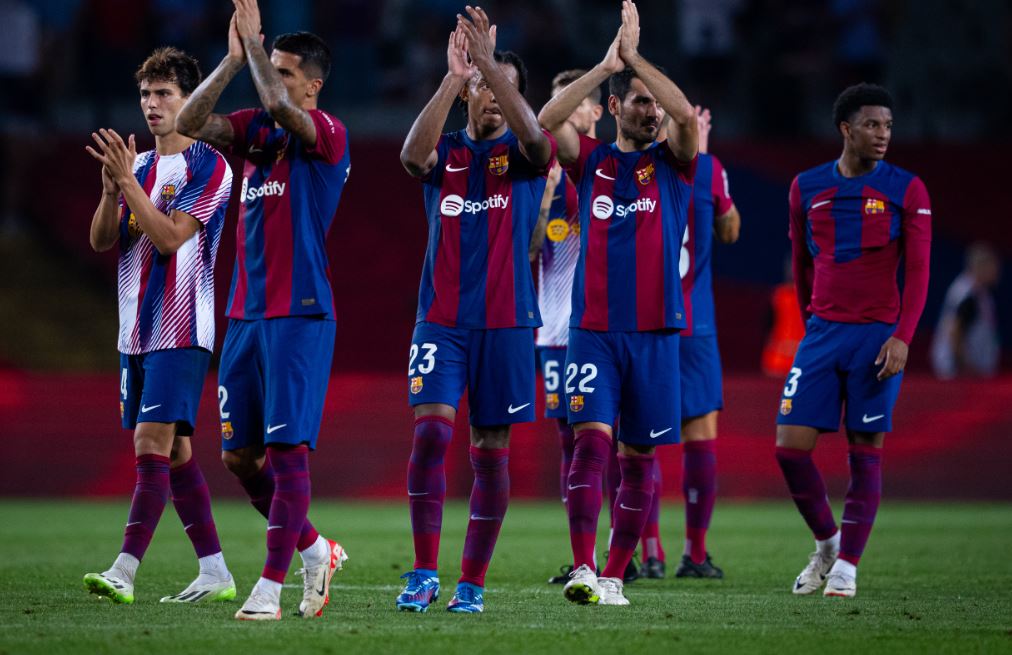 SECOND HALF
After the interval, Barça came out strong and increased the intensity with their striking and work on the ball, forcing Sevilla to defend more deeper and use harsher challenges in an effort to halt the Blaugrana's momentum. These stronger challenges resulted in fouls and yellow cards for the visitors.
The first 15 minutes featured a number of risky attacks and a few half-chances for the Catalan people without a real chance to breach the Sevilla defense, but the caliber of the offense gave the impression that the opening goal was approaching as the home team applied more pressure and Sevilla's defending became more frequently desperate.
With 15 minutes remaining, Barça finally made a breakthrough. A stunning cross from Ferran Torres found Lamine Yamal all alone inside the box, and his header hit the leg of Sergio Ramos and went into the net for an own goal to give Barça the lead. The hosts nearly fell behind when Rakitic nearly scored a beautiful header that hit the side netting.
With nothing to lose, Sevilla made attacking substitutions in an effort to pursue a comeback. When Jess Navas made a run in behind the defense and attempted to square the ball for Mariano Dáz, Kounde stopped him with an incredible sliding challenge, nearly giving Sevilla the equalizer.
In order to extend the game's last minutes, Barça had to defend its slim lead while attempting to maintain possession of the ball. For the majority of those final minutes, they did it virtually perfectly. They also had several further opportunities to score a second goal and terminate the game, but they were unable to capitalize on them. In the latter moments, they had to engage in some desperate defending to earn all three points.
When the final whistle rang out, the home team was assured of victory, but Barça truly had to work for it against a Sevilla squad who played well and challenged the Catalan capital. Given the previous defensive woes, a clean sheet is significant news. The attacking quality is also encouraging despite the marginal finishing.
Barcelona defeated Sevilla 1-0 watch the video.
And let's face it, a 1-0 victory thanks to an own goal by Sergio Ramos feels just as good, if not better, than a 5-0 beating. This evening was enjoyable.
Finally Barcelona defeated Sevilla 1-0 Incredible and powerful victory for Barcelona
Sergio Ramos of Sevilla scored an own goal to give Barcelona the win in La Liga.
Ramos, a former Real Madrid player who spent two years at Paris St. Germain, was facing Barcelona in his record-setting 34th La Liga game. The 37-year-old then put an end to the contest by deflecting Lamine Yamal's header past his own goalkeeper and across the goal. In an open first half, Joao Felix crashed a shot off the underside of the crossbar as Barca earned the victory. The only drawback to a result that saw Barcelona go above neighbors Girona atop La Liga was the loss of Raphinha to a hamstring injury in the first half. In opposition to the corruption case, Sevilla did not have any representation in the VIP section.
Ter Stegen; Cancelo, Kounde, Christensen, Balde; Gündogan, Gavi; Yamal (Romeu 82nd minute), Raphinha (Fermn 37th minute), Félix (Ferran 71st minute); Lewandowski
Goal: Ramos (OG 76')
Juanlu (Navas 82′), Badé, Ramos, Pedrosa (Suso 82′), Jordán, Sow (Fernando 66′), Ocampos, Rakitic, Lamela (Mariano 75′), and Lukébakio (Acua 75′) are the Sevilla players.
Goal: none