Here more about Amitabh Bachchan's Birthday.
Table of Contents
Introduction
Ladies and gentlemen, fans of the silver screen, and admirers of timeless talent, it's that time of the year when we come together to celebrate the birthday of a living legend, the Shahenshah of Bollywood, Amitabh Bachchan. Born on October 11th, this iconic actor, film producer, and television host have not only carved his name in the annals of Indian cinema but also in the hearts of millions around the globe.
As we gear up to celebrate Amitabh Bachchan's birthday, we invite you to join us in commemorating the extraordinary life and career of this charismatic personality. From his early struggles to his meteoric rise to stardom, and his enduring impact on the entertainment industry, there's so much to explore and appreciate. In this blog, we will take a closer look at Amitabh Bachchan's journey, his cinematic achievements, and the special ways in which his fans celebrate his birthday. So, without further ado, let's dive into the world of Amitabh Bachchan.
The Early Days: Amitabh's Humble Beginnings
Amitabh Bachchan, born Inquilaab Srivastava, in Allahabad, Uttar Pradesh, came from humble beginnings. His father, Harivansh Rai Bachchan, was a renowned poet, while his mother, Teji Bachchan, was a social activist. Young Amitabh initially pursued a career in the corporate world, working in Kolkata. However, his passion for acting led him to try his luck in the film industry.
The Big Break: Amitabh's Rise to Stardom (300 words):
Amitabh Bachchan's journey to stardom was not without its share of challenges. His tall frame and deep voice initially earned him rejection, with critics labeling him as "too tall" and "unconventional" for leading roles. However, destiny had other plans.
Amitabh's breakthrough came with the film "Zanjeer" in 1973, where he played the iconic role of Inspector Vijay Khanna. His intense portrayal of the "angry young man" struck a chord with the audience, propelling him to superstardom. This marked the beginning of an era defined by Amitabh Bachchan's dominance in the Indian film industry.
The Cinematic Legacy: Amitabh's Iconic Films
Amitabh Bachchan's filmography reads like a treasure trove of cinematic excellence. Over the years, he has delivered numerous iconic performances that have become an integral part of Indian film history. From the action-packed "Sholay" to the thought-provoking "Deewar" and the heartwarming "Kabhie Kabhie," Amitabh has showcased his versatility as an actor.
One cannot discuss Amitabh Bachchan without mentioning his collaboration with the legendary filmmaker Yash Chopra. Films like "Silsila" and "Kabhi Kabhie" explored the complexities of love and relationships, with Amitabh's charismatic presence leaving an indelible mark.
The 1980s saw Amitabh Bachchan's emergence as the "angry young man" escalate to a megastar. Blockbusters like "Coolie," "Sharaabi," and "Namak Halaal" cemented his status as the undisputed king of Bollywood. He continued to deliver powerful performances in films like "Agneepath" and "Hum."
Even after facing a brief hiatus in the late '90s, Amitabh Bachchan made a remarkable comeback with movies like "Mohabbatein" and "Kabhi Khushi Kabhie Gham." His portrayal of the stern yet lovable patriarch became a trademark role in his later career.
Beyond Bollywood: Amitabh's Impact
Amitabh Bachchan's influence extends beyond the silver screen. He has ventured into television with the immensely popular show "Kaun Banega Crorepati," which not only entertained but also educated millions. His distinctive baritone voice is a common presence in advertisements, lending gravitas to various brands.
Amitabh's philanthropic endeavors are equally noteworthy. He has been associated with numerous social causes, including Polio eradication campaigns, and his contributions to charity organizations have made a significant impact on society.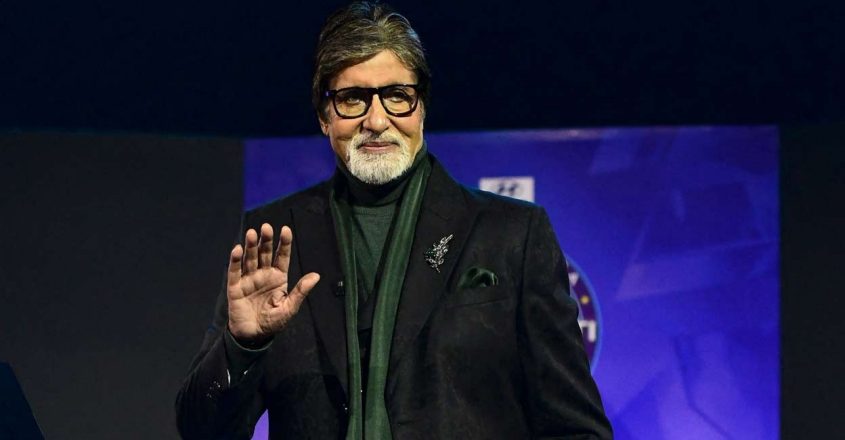 Celebrating Amitabh Bachchan's Birthday
Amitabh Bachchan's birthday is more than just a date on the calendar; it's a day of joy, gratitude, and admiration for his colossal contributions to Indian cinema. Fans across the nation and beyond celebrate this day in various ways.
Social Media Tributes: Social media platforms are abuzz with heartfelt birthday wishes, fan-made posters, and video compilations showcasing his iconic moments. The hashtag #HappyBirthdayAmitabhBachchan trends on Twitter, and fans pour in their love and appreciation.
Film Marathons: Many film enthusiasts celebrate by organizing Amitabh Bachchan film marathons, where they revisit his classics and relive the magic on the big screen or in their living rooms.
Charitable Acts: In line with Amitabh's philanthropic spirit, some fans choose to contribute to charitable causes on his birthday as a gesture of goodwill.
Cake Cutting Ceremonies: Amitabh's admirers often gather in front of his residence in Mumbai, Jalsa, to catch a glimpse of their idol. Some distribute sweets and even cut cakes in his honor.
Artistic Tributes: Creative fans pay homage through art, including paintings, sketches, and sculptures inspired by Amitabh Bachchan's iconic characters.
Conclusion
As we celebrate Amitabh Bachchan's birthday, we are reminded of the extraordinary impact he has had on the world of entertainment. From his remarkable performances to his charitable endeavors, Amitabh Bachchan is more than a Bollywood superstar; he is an icon, an inspiration, and a living legend.
As he continues to grace the silver screen with his talent and charisma, we eagerly await what the future holds for this cinematic icon. Happy Birthday, Amitabh Bachchan, and thank you for the decades of entertainment, emotion, and excellence you've shared with us. Your legacy will continue to inspire generations to come. Cheers to the legendary Shahenshah!