Table of Contents
Kushi (2023) Movie Reviews.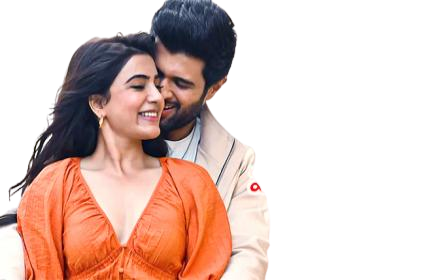 a) Introduction
Recently, a movie with an endearing plot and lovely melodies has been making waves. "Kushi," which stars Samantha and Vijay Deverakonda, has received substantial advertising. This romantic comedy, which was directed by Shiv Nirvana, known for his entrancing films like "Majili" and "Ninnu Kori," has just been released in theaters. Let's explore the content of this movie.
b) The Cast and Crew
Vijay Deverakonda, Samantha, Jayaram, Sachin Khedekar, Murali Sharma, Lakshmi, Ali, Rohini Molleti, Venela Kishore, Rahul Ramakrishna, Shrikant Ayyangar, and Sanya Pradeep are among the cast members. Shiv Nirvana is the film's director.
c) Producers: Ravi Shankar and Navin Yerneni
d) Hesham Abdul Wahab, composer
e) Filmmaking: G. Murali
f) Praveen Pudi, editor
g) The plot:
h) The protagonist of the story is BSNL employee Viplav (Vijay Deverakonda), who immediately develops feelings for Aradhya (Samantha). To fend off Viplav's advances, Aradhya poses as a Muslim from Pakistan. The rivalry between Aradhya's father, Lenin Satyam (Sachin Khedekar), and Chadrangam Srinivas Rao (Murali Sharma), who hails from a traditional Brahmin family, is eventually revealed when Aradhya confesses her love for Viplav and says she comes from a Brahmin household. Viplav and Aradhya wed against the desires of their parents and encounter unforeseen difficulties as a result. The movie investigates how they deal with these difficulties.
Pros:
Instead of focusing on novel ideas, "Kushi" explores everyday problems that people have in relationships. It is delivered in a humorous way in the second part. Rich images and superb music work nicely to balance the conflicting themes. The chemistry between the lead actors makes the later portion of the film shine brightly. As Viplav, Vijay Deverakonda is fantastic. He gives up his inflated persona in favor of doing as the character commands. His comic timing is impeccable, and he gives riveting performances in significant sequences.
Samantha appears to be quite cute in "Kushi." She does an excellent performance and is truly lovely. Even in intense sequences, she and Vijay Deverakonda have a good connection. The supporting cast, which consists of Sachin Khedekar, Rohini, Shanya Pradeep, Murali Sharma, and Rahul Ramakrishna, contributes effectively.
Cons:
After a while, the movie starts to feel a little bit predictable, which significantly lessens its impact. In the second half, some trimming could have been helpful. The Kashmir episode may have been handled more succinctly despite being quite lengthy. The film's pacing isn't as strong in the first half, but it picks up after the intermission. Although the film's difficult subject matter was emphasized by its director, Shiv Nirvana, during promotional events, audiences may be reminded of earlier films that also dealt with comparable topics.
Kushi (2023) Movie: Technical Details:
The second protagonist of "Kushi" is Hesham Abdul Wahab's music. The tunes are excellent, and G. Murali's cinematography is stunning. The rich images make for a better watching experience. The production values have not been compromised by Mythri Movie Makers. Editing could have been more precise.
Kushi (2023)Movie: Rating Analysis:
In conclusion, "Kushi" is a romantic comedy that makes you feel happy. With the help of Vijay Deverakonda and Samantha, Shiv Nirvana made an effort to recapture the enchantment of Pawan Kalyan and Bhumika's timeless "Kushi." Shiv Nirvana has an intriguing beginning, but while having a nice idea, the execution fell flat. Characterization was important for him since he wanted to make Vijay and Samantha shine, something the character sketches inadvertently did not do. If more attention had been paid to the storyline and execution, "Kushi"'s stunning music and engaging images may have achieved greater heights. In light of all of these elements, Cinejosh awards "Kushi" a score of 2.5.
Review of the 2023 film Kushi: What's Behind It?
On September 1, 2023, Shiv Nirvana's romantic comedy "Kushi" with Vijay Deverakonda and Samantha is scheduled for release. The young love teaser and trailer, as well as Vijay Deverakonda and Samantha's presence, have piqued the imagination of moviegoers. With this movie, Vijay Deverakonda, Samantha, and Shiv Nirvana are hoping to make a comeback and find success. Amazon Prime has purchased the OTT rights to the movie, and streaming will begin when it has finished its theatrical run. Let's examine "Kushi" and see whether or not it has won over the hearts of moviegoers.
Conclusion:
"Kushi" is a straightforward but endearing romantic comedy that addresses challenges that married couples commonly encounter. Samantha and Vijay Deverakonda both excel in their parts, with solid help from the rest of the ensemble. Even if the second part of the movie loses some of its momentum, it's still a good family movie.