The Shahi Tukda is a rich, royal, and popular dessert in Mughlai cuisine. It's made from deep-fried bread slices soaked in a fragrant syrup infused with the scent of rose and cardamom, topped with creamy, sweet, thickened milk (known as rabri), and flavored with saffron. This delicious dessert is often garnished with almonds, pistachios, cashews, and occasionally edible silver leaf (varak). Serve your guests with a touch of royalty alongside this unique Indian sweet treat.
What Is Shahi Tukda?
The term "Shahi" in Hindi and Urdu means "royal," and "Tukda" (also spelled as "Tukde") means "a piece." In literal terms, this delectable dessert translates to "royal piece" or "royal slice." slice." It is also known as Shahi Toast since it is usually cooked and served on festive and exceptional occasions.
Shahi Tukda (occasionally confused with Indian Bread Pudding or Double ka Meetha) has been a popular request from my readers, so I'm excited to share this recipe with you. I learned to make this traditional Mughlai dessert in my cooking school, and while Mughlai cuisine usually demands elaborate preparation, there are plenty of quick and easy versions available nowadays.
In simple terms, Shahi Tukda consists of bread slices deep-fried in ghee (clarified butter), soaked in aromatic sugar syrup infused with rose and cardamom, and topped with rich, creamy, sweetened, thickened milk (rabri), flavored with exotic saffron. It may sound like a lot of steps and preparation, but believe me, once you've made the rabri, half the work is done. Mughlai dishes often call for extensive preparation, but the extra effort is almost always worth it.
This dessert can be served hot or cold. If you plan to serve Shahi Tukda cold, you can prepare the rabri a day ahead and refrigerate it. It's a substantial, indulgent dessert that's specially made for celebrations. Whatever festival you're celebrating, the combination of richness and flavors in this extraordinary Indian dessert will surely enchant your guests.
Shahi Tukda Recipe
To make it easy to understand, I've divided the step-by-step photo guide into four parts:
Preparing Rabri (Sweet, Creamy Thickened Milk)
Keep in mind that making rabri takes time. For a time-saving option, you can also try this easy and quick Basundi recipe, which features thickened milk. But be sure not to add charoli (chironji seeds) if you go with this option.
Take a wide, thick-bottomed frying pan or kadhai or a heavy pan and add 1 liter of full-fat or whole milk. Heat it over medium-low to medium heat until it comes to a boil.

Stir the milk occasionally to keep it from sticking to the bottom of the pan.

Mix in 3 tablespoons of milk powder (I used Nestlé brand).

Adding milk powder reduces the cooking time for rabri, but it's optional. If you don't have it, simply simmer the milk for a longer duration.

Add 1 tablespoon of masala milk powder (I used homemade masala milk powder).

This step is optional. If you don't have this masala mix, you can crush a pinch of saffron and mix it with 1/4 teaspoon of cardamom powder instead.

Remove any collected cream from the top of the milk and stir it back into the milk. Keep the pan on the stove; it's not ready yet. Continue simmering the milk on low to medium-low heat.
Keep scraping the solid milk particles from the sides of the pan and keep stirring continuously. Also, be cautious about browning or burning the edges.
Tips for Making Shahi Tukda: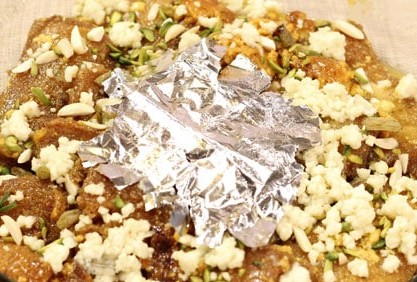 Use a Thick-Bottomed Pan or Heavy Kadai: It's always better to use a thick-bottomed pan or a heavy kadai when making dishes like Rabri.
Simmer on Low to Medium Heat: Keep the mixture simmering on low to medium heat and stir it continuously to prevent it from sticking to the pan. This will help the thickened cream mixture come together again.
Boil the Milk Until It Thickens: Boil the milk until it reduces and thickens to about one-third of its original quantity. As shown in the picture below, this is the right consistency!
You can also choose to cook it to a slightly thinner consistency. It will thicken further as it cools. It took me about 1 hour, but the time may vary based on the quality of your pan, heat intensity, and milk quality.
Remove from Heat and Add 2 to 2.5 Big Spoons of Sugar (Adjust to Taste): Stir well to dissolve the sugar.
Add Soaked and Crushed Kesar (Saffron) Threads with 12 to 15 Kesar Strands or Approximately 1 to 2 Pinches of Kesar Powder Along with Kewda Water: You can also add chopped almonds and pistachios if you like. I didn't add them because I used homemade masala milk powder, which is a mix of finely ground dry fruits with some aromatic spices.
You can also use rose water or rose essence drops instead of Kewda water if desired.
The consistency and texture of Rabri are shown below.
Preparing Pan-Fried Bread:
Cut 6 regular-sized bread slices into shapes like squares, rectangles, or triangles. You can use any bread of your choice – whole wheat, white, or brown.
If you prefer a healthier option, you can toast the bread in a pan or griddle with minimal ghee instead of deep frying it in ghee.
Heat 1 big spoon of ghee in a flat-bottomed pan or frying pan.
Toast the bread slices on low to medium heat.
Flip them when one side turns golden brown and toast the other side.
Flip once or twice to achieve an even golden color and crispiness.
Place the toasted bread slices on paper towels to remove excess ghee.
Repeat the process with another batch of bread slices using an extra spoon of ghee. Keep the toasted bread slices aside.
Prepare the Sugar Syrup:
In a pan, mix ½ cup of sugar and ¼ cup of water.
Time-saving tip: You can prepare the sugar syrup and toast the bread slices simultaneously.
Heat the sugar syrup mixture on low heat.
The mixture should begin to boil.
When the mixture starts boiling like this, it means the syrup is nearing a one-string consistency. Keep an eye on it!
Turn off the heat and add cardamom powder or rose water, and stir. If the sugar syrup cools down before you dip the bread slices, and it crystallizes, add about 1 to 1.5 big spoons of water and heat the syrup again on low heat until it becomes liquid.
Assemble Shahi Tukda:
Dip the bread slices into the sugar syrup. Use a spoon or a small sieve to evenly coat the bread slices with the syrup. If you find this challenging, you can arrange the sugar syrup-coated bread slices neatly on a plate or tray.
Be cautious as the sugar syrup may be hot or at room temperature.
Pour the Rabri over the bread slices soaked in sugar syrup. Garnish with blanched and chopped almonds and pistachios.
Serve the delicious Shahi Tukda as a dessert to celebrate! Enjoy!
Leftovers can be refrigerated in a covered container for about a day. Shahi Tukda tastes great when served chilled or at room temperature.